Oil Boiler Repair in Leeds & Yorkshire
Oil boiler repair services in Leeds & Yorkshire, including Harrogate, Wetherby, Malton, York and the surrounding areas.
Jump to:
Like many other appliances that we rely on heavily for our homes, boilers do not last forever. However, sometimes it's much more cost-effective to simply repair your existing boiler than have a heating engineer carry out the installation of a brand new boiler.
With this in mind, here at Green & Reliable Heating, we offer oil boiler repair services in Leeds & Yorkshire areas. If you would like to get in touch, just give us a call on, 08001182467 or 07717574470 and we will be happy to help!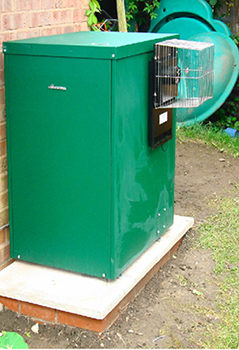 Oil Boiler Repair Services in Leeds & Yorkshire
If you're a homeowner based in Leeds & Yorkshire, we are on hand to offer oil boiler repair services for your property. With our oil boiler repair services, we will take a look at your oil boiler and find out exactly what problems are occurring. Once we've established what is going wrong with your oil boiler, we can work towards resolving the issues and have your oil boiler working once again.
If your home suffering from a faulty oil boiler, in need of repair in York, Malton, Harrogate or Wetherby, you should know that we do also offer oil boiler installation services. Whilst it may be cost-effective to repair your existing oil boiler, we can discuss oil boiler installation services for a new oil boiler if this is something you would be interested in.
OFTEC Registered Engineers
You will be glad to know that all of our heating engineers are OFTEC Registered (#C13573). This means that we have passed all the tests to ensure we are fully trained and qualified to carry out a range of services involving oil boilers. So when you call Green & Reliable for any oil boiler repair services, you can be assured that you are in safe hands with us.
We also offer free quotes to all of our customers across York, Malton, Harrogate and Wetherby, get in touch with us today by viewing our contact details down below.
(More: Our 5 tips on how to maintain your boiler)
Signs your oil boiler needs repairing...
Often your boiler could show signs which could indicate it needs repairing. Although these signs have not caused a major issue, it is good to make sure it gets looked at by a professional heating engineer. Some of these signs include:
- It takes longer than usual for the heating to turn on
- Your oil boiler turns off automatically
- There are cold spots on your radiator
- Sudden increase in your heating water bills
If you have noticed these signs, make sure to contact a heating engineer to come and have a look at your oil boiler before it causes any further issues.
Common Oil Boiler Faults
Incorrect oil boiler pressure
Oil boilers need to be at the correct pressure in order to operate correctly. Incorrect pressure can even cause your oil boiler to not switch on. Oil boilers typically operate between 1-3 bar, with the ideal pressure usually being around 1.3 bar. If you suspect too high or too low pressure in your boiler system - get in touch with our expert oil boiler repair technicians.
Condensate pipe blockage
Condensate blockages caused by freezing is a common occurrence in oil boilers during the winter months of the year. We carry out defrosting and can also prevent freezing from occurring in the future.
Fan Fault
Issues with your oil boiler fan often lead to your oil boiler not turning on. Due to the fact that the fan in your system acts as a safety mechanism, it is important to call a reputable oil boiler repair service as soon as you suspect a fan issue.
Air pressure switch fault
As mentioned, in the event of a fan failure, your oil boiler will not turn on as a safety precaution. The air pressure switch is how your boiler checks whether your fan is functioning correctly. Your boiler not turning on could also be the result of a faulty air pressure switch.
Radio Frequency issues
If your boiler is working is not responding to the thermostat, it could be a sign that your oil boiler FR transmitter is faulty or there could be a radio frequency crossover.
Printed Circuit board (PCB)
The PCB acts as the brain of your boiler and is what causes your oil boiler to shut down in cases where there is a dangerous issue with your oil boiler. Sometimes, these PCB units can be faulty and cause your oil boiler to shut down even when there are no issues throughout your system. One of our qualified oil boiler engineers will be able to diagnose a faulty PCB in your oil boiler system.
Benefits of oil boilers
Cost-Effective
It is often assumed that oil boilers are expensive to install, however when you consider the costs of running them and the amount of fuel required, it can save you lots on your heating bills in the long run. The reason for this is that it massively reduces the amount of energy given out.
Great Alternative
Oil boilers are the best alternative for those who do not have access to the mains gas supply.
Compatible with renewable energy heaters
They work great alongside solar panels and air source heat pumps, helping you further reduce the cost of your energy bills and your carbon footprint.
(MORE: Benefits of oil boilers)
Need Oil Boiler Repairs in Leeds & Yorkshire?
Are you ready to have us here at Green & Reliable Heating carry out a repair on your oil boiler in York, Malton, Harrogate, Wetherby or the surrounding areas? Well, then we are ready to help. You can get in touch with us by calling us on, 08001182467 or 07717574470.
You can also email us at, alanmarcon@me.com or use the contact form on our contact page to send us a quick message and our team will be happy to get back to you.
Finally, you can also see the work we've carried out and the reviews we've received over on our gallery page and reviews page.
We hope you choose Green & Reliable Heating for any oil boiler repair services that you may require!